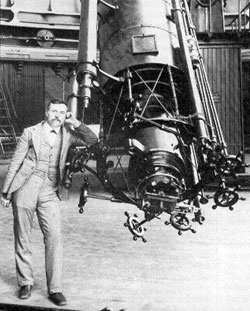 E. E. Barnard at the Lick 36-inch
In the 1890s, the great American astronomer Edward Emerson Barnard used the 36-inch refractor at California's Lick Observatory to make a classic series of observations of Mars. William K.Hartmann, in A Traveler's Guide to Mars, has written (p. 65):
"In the 1890s, the American observer Edward E. Barnard used the 36-inch-wide telescope at California's Lick Observatory to make visual studies of Mars, and he reported 'a vast amount of detail,' including various spots and patches, 'irregular and broken up.' In retrospect, Barnard has been recognized as one of the best Mars observers of all time, with one of the best telescopes ever used for extended visual observations of the red planet."
By way of background, at the previous perihelic opposition, in 1877, a number of important landmarks occurred in the study of Mars. Asaph Hall discovered the two moons, Phobos and Deimos, at the U.S. Naval Observatory (then located above the swampy lowland called "Foggy Bottom," on the Potomac). An English portrait painter, Nathaniel Green, produced an exquisite series of drawings of Mars from the island of Madeira, in the Atlantic Ocean off the coast of Morocco.