---
UNIVERSITY OF CALIFORNIA OBSERVATORIES / LICK OBSERVATORY
---
HOME
TO MOUNT HAMBURG INTERFERENCE FILTER
1999 June ARK (with Chr. deVegt instructing)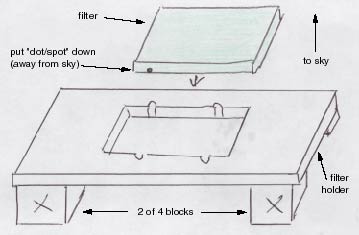 NEEDED: (1) optician's gloves (2) special optical tissue See Bill Brown's cabinet at 120-in for them.
FACT: touching the filter (mount/dismount) must not leave any sort of trace on the filter surfaces. Just any type of glove will not do!!
STEPS
1) Put 4 wood support blocks under the 4 corners og the filter holder. We need to put put one hand UNDER the IF filter as we carefully lower it down into the opening. USE optician gloves and special optical tissues!!!
2) Note location of dot/spot at edge of IF filter. See that it lies on the lower side, i.e., away from the lens(telescope)/sky. According to Lars Winter/Chr deVegt it may (or not?) be important to have the proper surface to the sky. They were not too positive about it.
3) Lower the tilted IF filter into a slot at one edge (left or right) only.
4) With the other hand (using gloves + tissue against filter surface) lower the filter until it rests flat in the holder.
5) Tighten the screws GENTLY but firmly. NEVER really tight!!
6) TEST: carefully try to push filter UP with hand. It should not move.