New Image Menu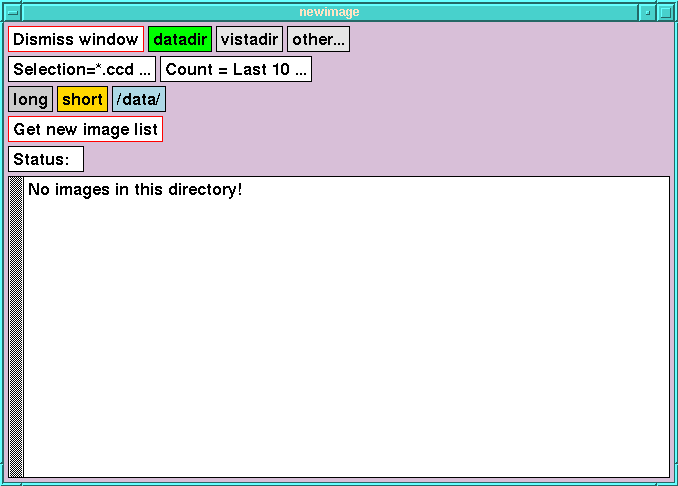 Figure 6: New Image Display Menu
This menu allows you to display FITS images stored on disk. The default directory is the data directory for the instrument you are using (the /data directory). If New Image is not seeing that directory, you can get there by clicking on datadir. The other easily accessed directory is the Vista directory (by clicking on vistadir). If you want to access a different directory, use the other... button and input the full path to the directory you want.
Selection=*.ccd. Shows what files are being selected and allows you to change the default extension, e.g. *.fits will show any filenames ending with .fits, *.* will show every file in the chosen directory.
Count = Last 10 .... Allows you to chose how many files are displayed as options for loading. The default is the last 10 files written to disk. Entering 0 shows all files, -N shows last N files written, N shows first N files written.
long. Shows long description of image (i.e. file name, image size, date written, object name).
short. Shows just the file names to choose from.
The box right of the "short" button shows the path name for the files listed (in Figure 6 above the path is /data/).
Get new image list. Once all the above parameters are set, then click here to update the image list.
Status: Gives a status message (e.g. 10 image names, Displaying, etc.).
The bottom large window lists the files available for displaying. Figure 6 above shows that there are currently no *.ccd images in the /data/ directory for displaying. If there are images to display, just click on the image name to display it.
---
Last modified: Tue Apr 6 15:07:19 PDT 1999 by