Introduction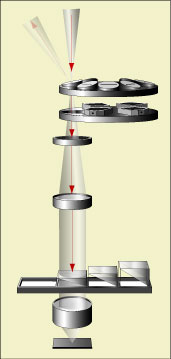 The Nickel Spectrograph (also known as the Stover Spectrograph) is a low to medium resolution spectrograph that sits at the f/17 cassegrain focus of the Lick Observatory Nickel 1-m Reflector on Mt. Hamilton. A set of grisms, covering the full range of optical wavelengths at different dispersions, is provided. The instrument also offers limited direct imaging. Because the Nickel 1-m is a user-operated telescope, you must be trained its use in order to use the spectrograph. Telescope operation is described in the
Nickel 1-m User's Guide
. NOTICE: The Stover Spectrograph is decommissioned as of November 2012.
The Nickel Spectrograph is a Lick facility instrument, available to the University of California astronomical community by subscription.
Follow these links to:
Time Allocation Policy
Observing Time Request Forms
All new users must be checked out by a resident astronomer on their first night. Please request support on your time application.
Please direct questions to a Mount Hamilton support astronomer.
Email
sa@ucolick.org
or consult the
support astronomers' on-call schedule
.
---
Last modified: Mon Nov 21 14:15:53 PST 2022