Pointing Limits
Pointing limits define the extremes of hour angle and declination beyond which the telescope shall not operate. An additional pointing limit applies to the CAT becuase of the vignetting of the siderostat in the far north, caused by the Shane Telescope enclosure.
hour angle limit
5h 20m
Limit may be exceeded with Director's permission.
Vignetting by dome imposes parctical limitations,
depending on declination.
north limit
+68o 30' (vignetting by dome begins on meridian)

south limit
-30o (begin underfilling primary)
-50o (primary 50% illuminated)
East and west hardware switches prevent accidentally exceeding the hour angle limits. Vignetting by the dome and the grazing angle of incident starlight--with the consequently narrow beam which underfills the primary--impose limits in the north and south, respectively. The hardware switches are occasionally removed by special permission. If the limits have been removed, it is the responsibility of the observer to take extra care insuring the telescope's safety.
The following plot shows vignetting by the 120-inch dome as a function of declination and hour angle.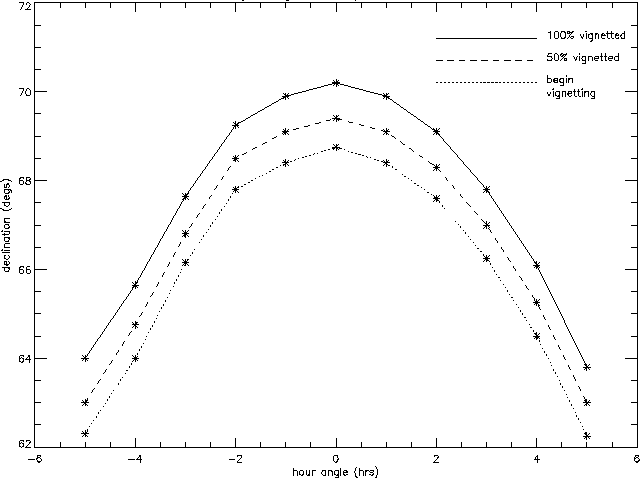 ---
Support Astronomers, sa@ucolick.orgs
Last modified: Wed Aug 1 00:04:17 PDT 2012